Family Community Center
Features of the Brunswick Family Community Center:
Built on foundation of the historic Center Brunswick Two-Room School
Over 3000 square feet of activity areas for Town residents
Meeting room for 99 persons
Large kitchen with indoor and outdoor serving windows
Modern two zone heating and air conditioning system
Built-in public address system
Access ramp and accessible rest rooms
Large closets for use by Town groups
Energy efficient construction and low-maintenance exterior
Sensors to automatically turn lights on and off depending on room occupancy
The TOWN OF BRUNWICK is pleased to announce the opening of the Brunswick Community Nature Trails, They start at either the north east corner of the black top at the Family Community Center or at the end of Bonesteel Lane near the Highland Creek Development.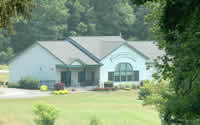 Individual residents or town organizations interested in scheduling an event or activity at the Brunswick Community Center may contact the Town Offices for information at 518-279-3461.
Proof of residency is required.
Brunswick Family Community Center is located at18 Keyes Lane, just off Route 7 in Center Brunswick. There is a sign on the side of the road saying "Brunswick Community Center" and a street sign saying Keyes Lane.
From Troy - take Hoosick Street (Route 7) east. From the intersection of North/South Lake and Hoosick Street, it is 2.2 miles to the Brunswick Family Community Center. Turn right into Keyes Lane. If you go too far, you will see a Stewart's shop on your left at the intersection of Hoosick Road and Route 142.
From the east: follow Hoosick Road (Route 7) west toward Troy until you pass the Stewart's at 7 and 142. Keyes Lane is on your left about a quarter mile past.
Download our Community Center Reservation Packet
To read the forms, you will need Adobe Reader, a free download from Adobe.